In Memoriam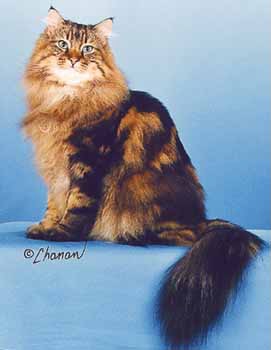 PR Vanir's Olie
Olie was my first NFC and he started everything that has come after he came into my life. His parents were CH Skogeier Phantom of Vanir and CH Norwegies Yasmine of Wegie-Luv. He liked to sleep curled up next to my face at night, which wasn't always fun for me given how much fur he had! He was very demanding, but then he also always got what he wanted. He was such a special, wonderful cat.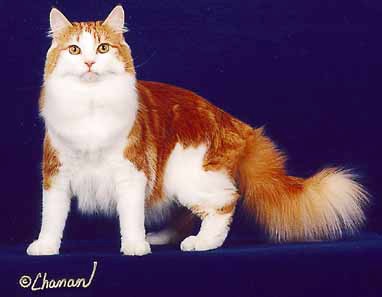 GP Vanir's Erik of Romsdalen
Erik was one of the most amazing cats I have ever had. He has been the only cat who would try to cheer me up if I was sad. He would do all kinds of cute things until I smiled. In addition to his wonderful personality, he was a stunning deep red classic tabby and white. His parents were CH Skogeier Phantom of Vanir and CH Bank I Bordet Betsabea A.U. He had silky, soft fur that he always kept in pristine condition. He was the first cat I showed who made it to the finals, which was so much fun!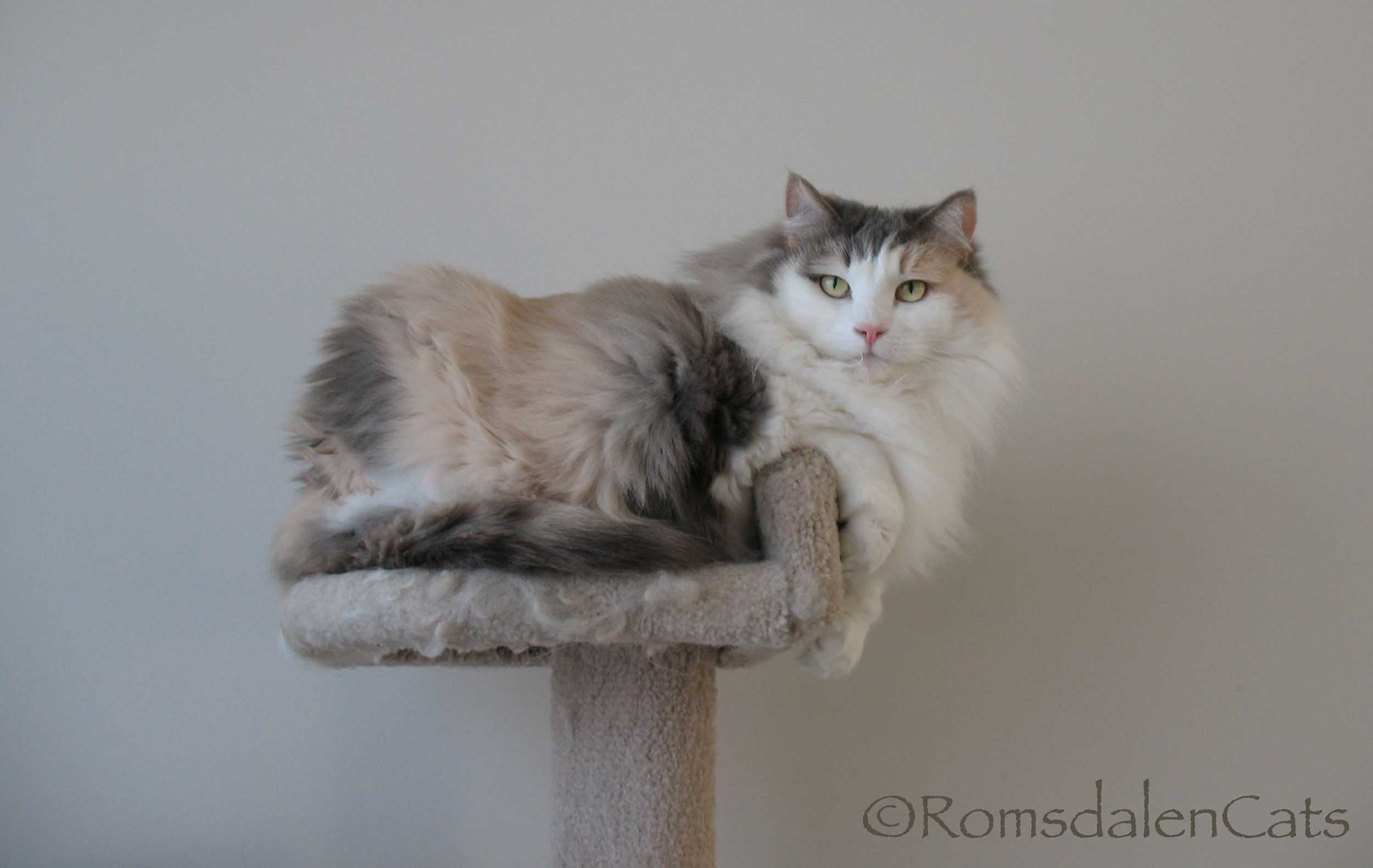 CH Vanir Katia of Romsdalen
Katia was our first breeding cat. She was a blue patched mackerel tabby and white. Her parents were CH Maelstrom Radagast of Vanir and GC Aqua Dolagon Cassiopeia of Vanir. She absolutely loved being pregnant and being a mom. She would groom and take care of all of the kittens in the house, whether they were hers or not. And she would nurse anyone, including Hobbes when he came to us at 14 weeks old! She managed the whole house, inspected any humans that came over to make sure they were "allowed" to be there. She was fearless and outgoing. I miss her every day.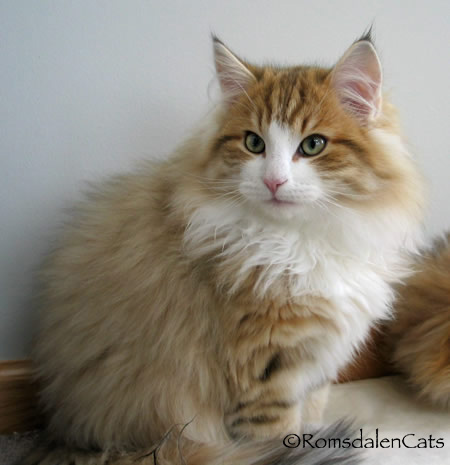 CH Romsdalen's Aaron
Aaron was a beautiful, sweet cat. As a kitten, he was much more into playing with the other cats and never wanted to cuddle to humans. But once he matured a little bit, he became a total lap cat, such that you couldn't sit down without him jumping in your lap. He did phenomenally well at shows as a kitten, earning many "best kitten in show" ribbons. At the time he was considered an "X-colored" cat, since it was before we knew about the amber gene. Even with his color being odd, the judges still loved him as much as I did.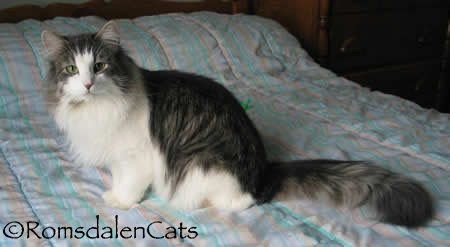 Wegiekatt Coolas Cookie of Romsdalen
Cookie came to us as an adult who had already had a litter, but she fit into the household well. She and Aaron had the prettiest babies together. She was such a good mom and did great delivering her babies on her own, but she always wanted me to stay with her and literally hold her paw during labor and delivery. She wasn't a cat that wanted to be held and cuddled but she was always near me.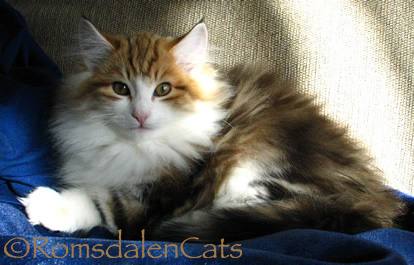 Romsdalen's Adia
Adia was Aaron's sister and also did very well at shows as a kitten. She never got stressed about anything. She used to get so excited purring and cuddling with us that she'd forget to swallow and drool all over us. She was a very happy cat, but not much into motherhood. So she only had 1 litter. She just had 1 baby, and she would move him all over the house, leaving him randomly on the floor. Katia would get so frustrated with her for not taking better care of him!
Follow Us: